Trenton & I have been keeping a very big secret until recently. We found out on Easter Sunday that we were expecting. I asked God for a sign that day that things would be ok...15 minutes later, this was in the sky...
So we waited...and waited...and had blood drawn and more blood. And finally at 6W3D we were able to see this...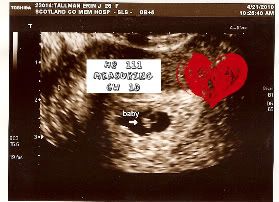 We had a fabulous u/s tech, who zoomed in for a heartbeat right away and found one beating at a perfect 111. We were measuring at 6W1D- so right on target for the most part. I was so surprised that she let us see the screen right away because usually they do their thing first, but she said as bad as I was shaking she could tell we were very NERVOUS and wanted to put us at ease. I burst into tears at the sound of that beautiful noise and didn't stop crying the whole time!
At this point, we were having none of the problems we had previously had. The u/s looked great and the doctor made an appt for a little over 5 weeks later. May 29th felt like it would NEVER get here. I was so nervous and anxious I seriously thought I was going to lose my mind. In the meantime, between driving my husband crazy over every single little twinge and pull, I started to have morning sickness...and afternoon sickness...and evening sickness. Not horribly bad, but enough where I was definitely ill 3/4 of the time. As the school year was wrapping up, my brain had completely shut down. Laundry and cooking dinner were replaced by 2-3 hour naps and this gal was in bed by 8-9 pm. I had never experienced any of this with the other pregnancies, so we were hoping this was a positive sign. To try and explain the emotions that we went through in those 5 weeks, would be impossible. I have never prayed so hard in my entire life. Mostly, we just prayed for God's will and for us to be at peace no matter the outcome. We wanted to shout it from the rooftops, but at the same time, we were so apprehensive that something would go wrong, we just couldn't say anything.
May 29th finally arrived. I went fairly confident into this u/s. Why I'm not sure, but I just felt like things were going to be ok. And this is what we saw...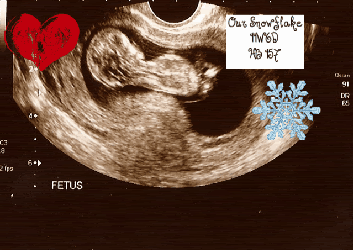 A baby...a real life baby with a HB of 157 and 10 fingers and 10 toes and absolutely amazing. He/she was not a fan of the doppler and kept doing flips and what not to get away from the sound the tech said. It was the most astounding sight I've ever seen....
We decided to wait until after Kayla's graduation to make our announcement to my side, which was on Sunday. On Friday night, we told his mom and told his dad on Saturday morning. I broke down and told Jamie and Kayla on Saturday morning over muffins and coffee after a girls' morning at Farmer's Market. Kayla said it was silly for us to wait and to go ahead and share. We still thought we should hold off until after her party Saturday night. After the party was cleaned up, we all went back to mom and David's and we broke the news then. It's kinda just spread by word of mouth and of course, Facebook. We're crazy excited and hope that come December 11th...or close to it, we'll be holding Baby T in our arms!